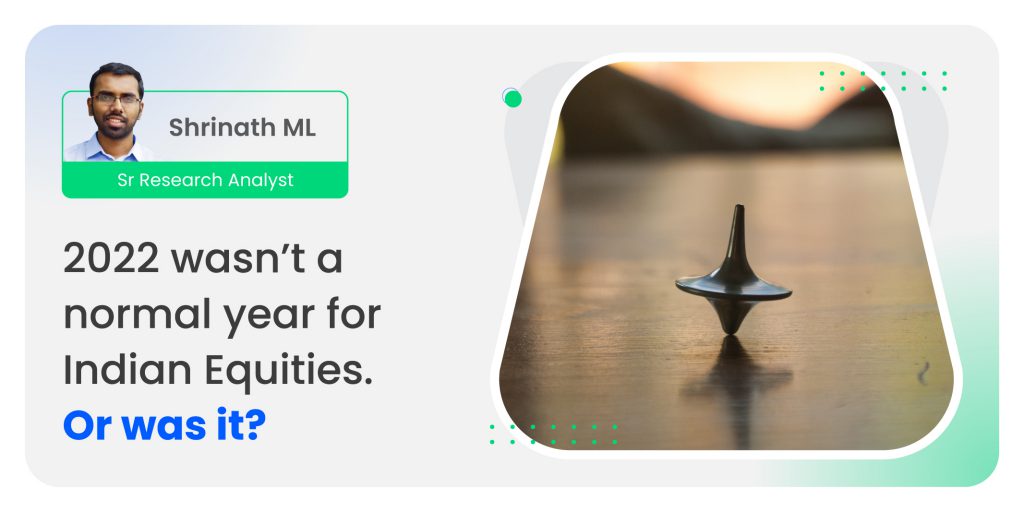 Indian markets had a lot of ups and downs in the year 2022.
We saw everything ranging from Omicron-induced Third Covid wave, Russia-Ukraine War, On & Off China Lockdowns, US Market Correction, Multiple Supply Chain Disruptions, Crude Oil Price Shock, Global Inflation, Aggressive Rate Hikes by Major Central Banks and Fears of Recession in the US.
No doubt, 2022 feels like an unusually volatile year!

While it definitely feels like there were too many events and the markets were extremely volatile, let us check whether our feelings are supported by historical evidence.
How does 2022 compare with history in terms of the magnitude of market falls?
The largest decline of 2022 occurred between 17-Jan-22 and 17-Jun-22 during which the Sensex fell from 61,309 to 51,360 – a fall of 16%!
But here comes the surprising part.

Historically, equity markets have gone through temporary declines of 10-20% almost every year.
With the exception of 3 out of the last 43 years (1994, 2014, 2017), every year has seen at least a 10% decline within the year.
The 16% decline of 2022 is much lower than the average intra-year decline of the prior 42 years (around 21%).
So while the decline of 2022 looks significant, a quick glance at history tells us that falls such as these are perfectly normal and regular.
What about the tenure of market falls in 2022?
Nearly one-fourth of the days in 2022 saw Sensex trade atleast 10% down from the peak levels at that time.
While it does look like a pretty rough year, here is some context. Going by the last 43+ year history, Sensex usually spends more than 50% of the days at levels that were atleast 10% below the market peak.
So, from a historical perspective, the tenure of volatility seen in 2022 is barely worth mentioning!
What about the barrage of negative news flow and events in 2022?
Yet another lesson from history…
There is no 'uneventful' year in equity markets!
Almost every year in the past had some bad news or negative events. So will every year in the future.
So if you thought 2022 was unusual, welcome to the rest of us.

Now you know the reality – this is just regular stuff!
Summing it up
2022 was a perfectly normal year for Equities both from a volatility and bad news standpoint. As a reality check, this is exactly what you signed up for.

How to prepare for 2023?
Remind yourselves of what to expect
As we have already seen, 10-20% declines happen almost every year in equity markets. And every 7-10 years, there have been major declines with falls ranging between 30-60%. Have these as part of your base expectations.
Revisit your asset allocation
If you didn't lose sleep over the market volatility last year, you are sorted for 2023. Stick to your asset allocation plan and rebalance if any asset class deviates by more than 5% from the original asset allocation.
However, if 2022 put you through sleepless nights, most likely you are overexposed to equities and it's high time you revisit your original asset allocation.
Are you ready for 2023?
[fbcomments]