You've invested in 20+ Mutual Fund schemes through 4+ online/offline platforms and AMCs. Your funds are scattered all over the place, and you are unable to track and manage them with any semblance of ease. Worst of all, you never get to have a comprehensive outlook of your folios and the performance of each of these 20+ investments.
Look no further! – Consolidate your investments in different platforms such as FundsIndia, Karvy, NJ Invest, CAMS, IIFL, and more using Easy Transfer. Track everything in a single place. 
Easy Transfer
Easy Transfer is a service that lets you move all your Mutual Fund investments to our platform. This helps in performing a review of your portfolio periodically, enabling better monitoring. The service provides an integrated view of all your investments, helping you ensure that your investments are safe and sound, and are moving in the right direction.
Get a consolidated account statement
To get a consolidated statement of all your investments, currently, you might use CAMs online. But you get only the consolidated statement and not the performance of your investments. You can try this out using the steps below: 
Visit www.camsonline.com.

Select 'Investor Services' tab on the top menu

Click 'Mailback Services' on the left menu

Select 'Consolidated Account Statement – CAMS+Karvy+FTAMIL+SBFS'
Understand your investments' performance
With FundsIndia, you will get both the consolidated report and your investments' performance. To get a consolidated statement from FundsIndia, move all your investments to FundsIndia platform through the process of Easy Transfer. The steps to perform Easy Transfer are as follows: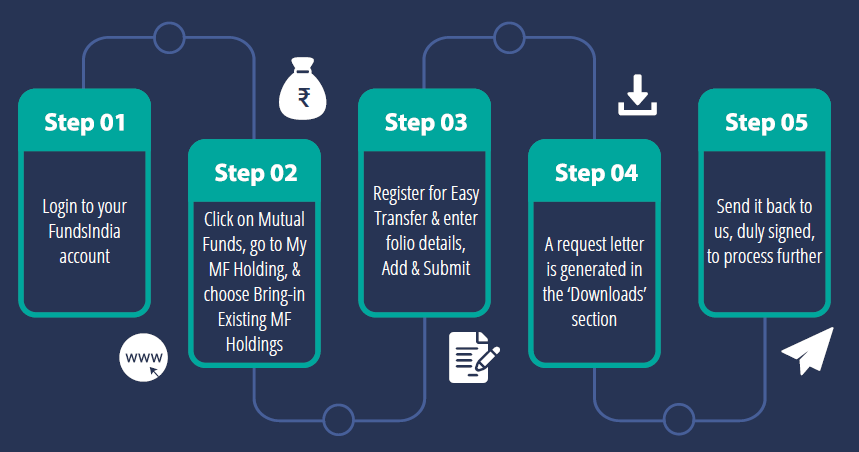 In Step 3, you will have to enter your folio details such as the name of the fund house, scheme name, folio ID, mode of holding, etc. After this, the system will generate letters of transfer, which needs to be submitted to the fund houses.
Easy Transfer allows users to change their bank details if the banks associated with their FundsIndia account and external accounts are different. The same can be done to address differences as well.
Still confused? Feel free to chat with us, call us at 1860 258 3055, or write to us at contact@fundsindia.com.
The perks of using Easy Transfer
Easy Transfer helps investors to reuse existing folios to make new investments, instead of having to create a new folio for every new investment. It also helps them to have a holistic view of their investments. They can club the accounts of their family members and make all transactions on a unified portal, with a single login. 
When a user consolidates his/her investments, it will help advisors to provide the best of advice, as they will get to have an overall, detailed view of the users' portfolio. The users can also have their portfolios reviewed periodically. This will help the advisor to give tailor-made insights to the users on how their portfolio can be modified.
Features achieved by enabling Easy Transfer:
Easy Transfer can pave the way for investors to enjoy different features as follows:
Portfolio Review

– Dedicated advisors can help investors in reviewing and balancing their portfolio, in times of market fluctuations and volatility. Consolidation of investments can help advisors to review portfolios in an efficient manner. This will also help them to provide advice accordingly. Click

here

to know more about portfolio review.

Portfolio X-Ray

– Portfolio X-Ray is a feature which has been launched in association with Morningstar. This feature provides a sector-wise allocation and asset allocation of your portfolio. Click

here

to know more about portfolio X-Ray.
[fbcomments]