In 2018, Foreign portfolio investors (FIIs) took to selling in 9 out of the 12 calendar months. At the same time, domestic institutional investors (DIIs) pumped money into the market through the 12 months. And yet, the market received little support from DII money and witnessed sharp volatility in 2018 pulling down a majority of the market.
FIIs made a grand entry in the first 4 months of 2019 and the markets immediately received a shot in the arm. It was clear that FIIs were the market movers, in spite of the fact that domestic investors are increasingly pumping money.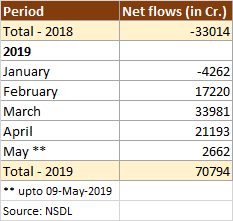 In May thus far, the markets have been creeping south as FII money slowed. They are essentially the market movers and shakers. Given the renewed interest they showed in the market in 2019 thus far, let's look at where they been investing.
Larger companies favoured
When FIIs came back, where did they show their interest? It was in large companies. The below chart shows the number of stocks which saw an increase/decrease in holdings for different market-cap segments after December 2018. In large caps, 67 of top 100 companies by market cap saw an increase in holdings by FIIs. For mid and small cap companies, only half or less than half the companies saw an increase.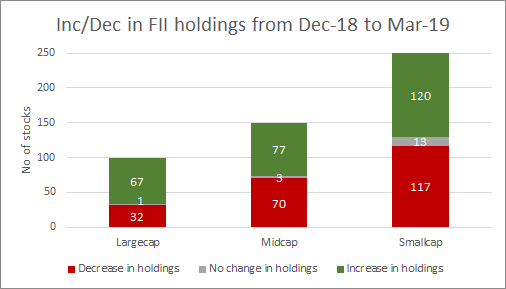 This is also in line with how markets have moved. During the same period (from beginning of the year to March 2019), the BSE 100 has gained 5.9% while broader markets underperformed. BSE Small cap index returned 2.2% while BSE Midcap index returned a meagre 0.2%. Among largecaps, stocks which fell steeply last year saw substantial increases. A notable stock here is Yes Bank. By the end of 2018, the stock price's had halved since August 2018. From 42% exposure in March 2018, the stock saw FIIs prune their exposure to 36% by December 2018. However, by March 2019, their holdings rose to 40%. Stocks such as Eicher Motors, Zee Entertainment and Coal India were also picked up on price falls
FIIs' inclination towards larger companies can also be observed from their holdings as a percentage of the market-cap segment. In December 18, FIIs held a share of 22.4% in the largecap segment which increased to 23% by March 19. Similarly, their holdings in mid cap segment also saw an increase from 14% to 14.5% during the same period. Smallcap is the only segment which saw a decrease, falling from 10.9% to 10.7%. Buying happened broad based in largecaps, mid and small cap segments only saw increases in select pockets.
Sectoral trends
The fortnightly FII inflow data into sectors, disclosed by NSDL provides some interesting trends on where money flowed this calendar.
Finance
A large portion of the inflows went to banking and finance stocks. But interestingly, money also chased the newly listed insurance companies, an augment that is widely regarded by analysts as carrying significant opportunity.  Barring the two public insurance companies, GIC and The New India Assurance Co, other insurance stocks in the sector saw steady increase in holdings. SBI Life Insurance Co. seemed to be the most favoured one, with FIIs increasing their stakes by 9 percentage points from 4.8% to 14% in the March 2019 quarter.  FIIs held between 10% to 13% in players such as HDFC Life Insurance, ICICI Pru Life Insurance and ICICI Lombard General Insurance. Among banks, small-cap stock Lakshmi Vilas Bank saw a significant increase in FII stake following their participation in a qualified institutional placement. This was ahead of the merger approval of the bank with Indiabulls Housing Finance.
Oil and Gas
Oil and gas companies was the other sector to see renewed interest. This came on the back of FIIs cutting their exposure in this space in 2018. In the oil segment, Reliance Industries, IOCL and BPCL attracted a bigger chunk of investments. Among gas companies, ONGC and Petronet LNG in largecaps and Mahanagar Gas and Indraprastha Gas in midcaps were their top picks.
Pharma
A few small-cap names in the pharma sector saw significant increases in holdings. Stocks such as Advanced Enzyme Technologies, Bliss GV Pharma and Laurus Labs saw increases between 5 to 7 percentage points. Bigger companies in the sector such as Aurobindo Pharma, Dr.Reddy's Laboratories and Divis Labs have been seeing small but steady increases not just in the last, but through the past year. Holdings in other bigger ones, like Lupin and Cadila Healthcare, were however pruned.
Automobile
Strangely one of the badly beaten space, automobile sector, did not find favour with FIIs even after the correction in 2018. Exposure to a large number of auto stocks were pruned by FIIs. This trend persisted through most of 2018 and continued into 2019. Prominent names such as Mahindra & Mahindra, Hero Motocorp, Maruti Suzuki and Ashok Leyland all saw a consistent decrease in FII holdings. Meaningful increases happened in less than 1 in 5 stocks in this sector. Beaten down stocks such as Eicher Motors, Motherson Sumi Systems and Tata Motors were the ones which attracted investments.
Other stocks
While there was no specific sector trend observed, stocks from various sectors were picked up on correction or on prospects of pick-up in sector's fortunes. In the realty space for instance, DLF, Indiabulls Real Estate and SunTeck Realty saw between 2-4.5 percentage point increase in FII holding. Similarly, stocks such as Just Dial, Eveready Industries and Mannapuram Finance saw 4-7 percentage point increase in holding in FIIs.
[fbcomments]