HDFC Dividend Yield Fund – 'Value' oriented Fund positioned for Attractive Dividend Yield + Valuation Rerating + Reasonable Earnings Growth
FundsIndia View: Positive
HDFC Mutual Fund has launched a new open-ended equity fund – HDFC Dividend Yield Fund.
New Fund Offer Period: 27-Nov-2020 till 11-Dec-2020
Investment Strategy
Invest in

high dividend yield stocks

 

Preference for companies with stable business models, companies with growing dividends, buyback opportunities and companies trading at attractive dividend yield

Well diversified Portfolio

:

~ 40 to 50 stocks spread across market cap
Sector agnostic

with maximum allocation to any sector capped at ~40% – thereby offering diversification

Fund to have

'Value' bias
Why are we positive on this fund?
HDFC Dividend Yield Fund broadly has a three-pronged approach for achieving its return objective.
1. Targeting a High Dividend Yield around 4%
The fund invests predominantly in companies that have a high dividend yield. Generally such companies with high dividend yield are mature businesses with solid cash flow from operations – thereby they are less volatile. The average dividend yield of the Nifty Dividend Opportunities 50 index (benchmark for the HDFC Dividend Yield Fund) is 3.9%. 
HDFC Dividend Yield Fund will be targeting roughly a dividend yield of 4%. This is roughly equivalent to Debt/FD short term interest rates which makes the fund extremely attractive from a dividend yield standpoint.
2. Possibility of Valuation Rerating given the low current valuations
Currently, the Nifty Dividend Opportunities 50 Index is trading at valuations much lower than the Nifty 50. The portfolio of HDFC Dividend Yield Fund (based on their model portfolio) is expected to have low PE of around 14 times. The value style has been underperforming the broader index in the past few years. Going by history, we expect the mean reversion to happen in the coming years which could result in significant outperformance owing to rerating of the value stocks.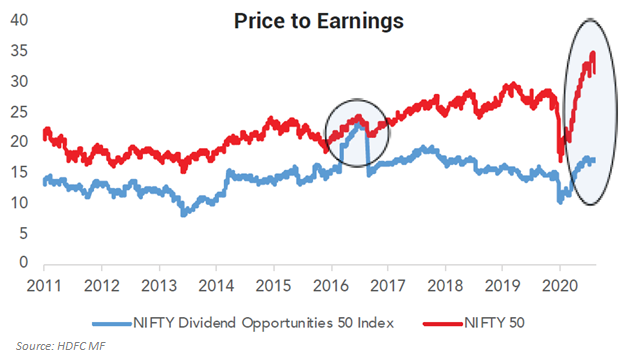 3. Portfolio to target reasonable earnings growth 
Further to dividend yield and valuation rerating, HDFC Dividend Yield Fund will also benefit from underlying earnings growth. The fund will invest in companies with high dividend yield with an earnings growth potential of at least 12-15%. The fund will also invest in companies looking for buyback opportunities which will result in gains for the shareholder.
Apart from these, there is also tax advantage by opting to invest into dividend yield stocks through mutual fund schemes instead of a direct investment. Dividend income resulting from direct investments into companies is taxed at around 36%. But the same dividend income is tax free for a mutual fund investing into these stocks. And the investors will have to pay a tax of just ~12% on the resulting long term capital gains.
Summing it up – A well diversified "value" fund positioned for high dividend yield, valuation re-rating and reasonable earnings growth
For

patient equity investors

with a

5 year time frame

and willingness to withstand near term underperformance, we believe HDFC Dividend Yield Fund can be a good choice for investors

Our conviction on the fund is driven by three factors:
 – High Dividend Yield of ~4%
 – Potential for a valuation rerating given the low current valuations
 – Positioned for reasonable earnings growth around 10-15%
For equity investors, this fund can be positioned under the 'Value' basket and the exposure can be built upto 10% of the equity portfolio

Aggressive investors looking to improve their debt portion returns, can build up to 10% of their debt portfolio into this fund
[fbcomments]