The services sector in India accounts for over half our GDP. It is also among the steadier drivers of GDP growth. Sundaram Services Fund aims at capturing the opportunities in the services space. Here's more about the NFO and what makes it unique.
About the fund
Sundaram Services Fund is an open-ended equity fund that focuses on the services sector. This makes it a thematic fund.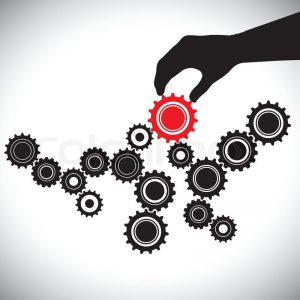 However, there are several individual sectors that come under the services umbrella.
Financial services, for example, is a sector that Sundaram Services will consider. Here, it will look at retail-oriented banks and NBFCs, insurance companies, asset-management companies, wealth management companies. The fund will look at healthcare services, i.e., hospitals and diagnostics. It will look at retail, tourism, hotels and restaurants, media, entertainment, staffing, logistics, business process management.
The fund is also looking at companies that are light on assets. That is, they require lesser capital for expansion purposes, have smaller debt troubles, and can have better return margins as a result.
What's the potential?
The services sector has already been one of the drivers of economic growth. The sector's growth is among the fastest. Its potential is also vast, if developed economies are an indication.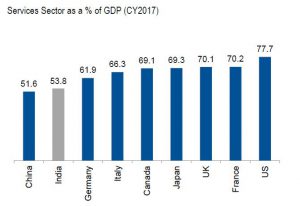 Source for both graphs: Sundaram AMC presentation
Apart from this, potential also comes from the following:
One, the sectors the fund is looking at are relatively under-penetrated in their respective markets. Consider financial services – note that the fund is not going after banks. Services such as insurance and wealth management are only just beginning to get more widespread. Similarly, the retail sector is seeing a shift away from unorganised players and are getting better at optimising store formats.
Two, several sectors ride the consumption wave and benefit from higher spending such as tourism, hotels and restaurants, aviation, entertainment, and so on. The fund is not using mainstream consumer sectors such as FMCG or automobiles – it is looking at smaller plays. Sectors such as healthcare, while not being a 'consumer' theme, nevertheless holds growth promise due to people shelling out higher amounts for their healthcare. Its also a relatively defensive sector. The consumption theme is also one that is more insulated from a lag in the investment cycle; consumer growth has been, and will continue to be, an economic driver. To this extent, consumer stocks can continue to do well until the investment cycle picks up and manufacturing growth gathers steam.
Three, a counterweight to the consumer theme comes through B2B sectors. Logistics can grow more efficiently post the GST and companies streamline their fleets. The fund is also not going for software services in its entirety, instead choosing more niche companies in data analytics, research etc. The B2B component and its avoidance of main consumer sectors sets it apart from other consumption funds.
Four, there is no similar equity fund that is already available.
What's the risk
One risk comes from higher valuations in some of the stocks or sectors, which may render them unattractive despite their potential. The fund will have to balance out valuations with downside risks should the consumption theme fade. Other challenges include finding investible stocks in more niche sectors. A flow of new stocks through IPOs may be necessary in such sectors to provide a wider choice.
These apart, risks come from the nature of an NFO, where there is no record by which to judge ability to perform. The thematic nature of the fund is an additional risk, even though the fund is more broad-based than pure sector funds. The NFO is open until September 12th, post which it reopens for subscription on 26th September.
The above article seeks to explain the features of Sundaram Services Fund NFO. Investors need to take into account their investment objective, time frame and risk appetite before investing. Mutual funds are subject to market risks. Please read the scheme information and other related documents before investing.
[fbcomments]