A Stable Player for Volatile Times
Investors who wish to use the current equity market volatility to start building an equity portfolio can add UTI Opportunities as a part of their core holding. A large-cap bias, ability to contain downside and consistent performance over the last 5 years, make this fund a good choice.
The fund delivered 13% annually over the last 5 years. That's a good 9 percentage points against its benchmark BSE 100. It is also far superior to the category average of 5.5% annually over the same period.
The Fund and its Suitability
UTI Opportunities is a 'go-anywhere' fund that seeks to invest across sectors and market-cap segments where it sees opportunities. Like most opportunity funds, it did seize the opportunities across market caps. But in more recent years, since the takeover of Anoop Bhaskar as the fund manager in mid-2011, the fund has steadily seen a large-cap bias in its portfolio.
While Anoop Bhaskar has for long been a 'mid-cap specialist' (in his earlier stint with Sundaram Mutual), his strategy towards this fund appears to be borne out of a need to provide stability in a prolonged volatile market. And UTI Opportunities has done just that with its bias for large caps.
UTI Opportunities can form a part of an investor's core portfolio for its above characteristic. Given the uncertainty in corporate earnings, a steep increase in the cost of borrowing for companies and a general slump in consumption and investment sentiment, investors starting a portfolio may be better off sticking to large-cap stocks, whose companies can withstand these pressures better.
Besides, the recent correction has also ensured that the valuations of many large-cap stocks are no longer at a premium.
Investors can consider taking the SIP route to invest in equity funds at this point. Markets can be expected to be in a broad bear grip with short rallies (such as the one seen in the last couple of days) that are unlikely to be sustainable. Opportunities to average costs therefore remain ripe over the next one year.
Performance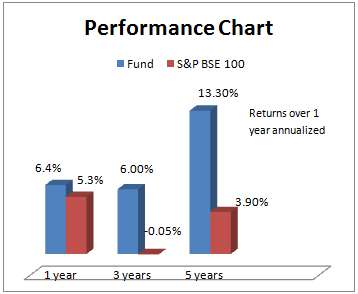 UTI Opportunities, similar to most other equity funds as well as broad markets, gave up some gains in the market turmoil in 2013. As a result, its one year return is a mere 6.4%. That's still better than the less than 3% return managed by the diversified fund category on an average.
The fund managed to hold to some gains in a bear-dominated market despite holding less than 5% in cash, thanks to successfully containing downside in 2013 through adept calls. The fund fell 5% thus far in 2013, as against a close to 10% decline in the NAV of equity funds on an average.
The above performance was made possible by some right sector moves such as pruning holdings in an overheated FMCG and upping exposure to the currently more promising IT space.
Over a longer time frame, UTI Opportunities comes across as a stable performer, what with the fund beating its index – S&P BSE 100, 86% of the times on a rolling one-year returns chart over the last 5 years.
On a risk-adjusted basis, the fund scores better than most large-cap peers, but lags behind opportunity funds such as Reliance Equity Opportunities. But that is only to be expected as the latter is a more aggressive fund with a higher mid-cap bias.
Portfolio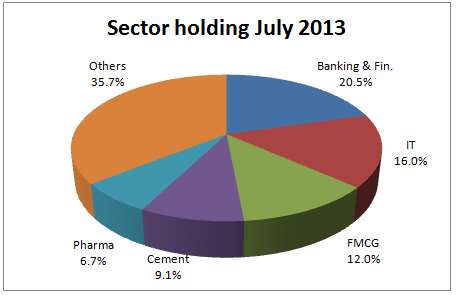 UTI Opportunities went into cash for a good part of 2008 and early 2009 to contain declines following the financial crisis. But it did miss out the early part of the 2009 rally as a result.  The fund though, appears to have taken a more balanced approach since Anoop Bhaskar's takeover, moving perhaps 5-8% to cash during market falls.
For instance, it had over 95% invested in equities in its latest portfolio, even while funds such as Quantum Long Term Equity Fund (equally adept at containing declines) held only about 85% in equities. UTI Opportunities' ability to contain declines with a reasonably high exposure to equities is therefore noteworthy. It may also be a superior strategy to stay invested in equities to take advantage of the quick bear market rallies.
Another fund from the same stable, UTI Equity, too sports a large-cap bias and is managed by the same fund manager. The key difference between the 2 portfolios is that UTI Opportunities holds a more concentrated portfolio of about 40 stocks, as against 70-75 stocks in UTI Equity.  The latter has almost the same proportion of mid and small-cap exposure but holds more number of stocks from this market cap.
In terms of sector choice, besides continuing with banking and finance stocks as its top sector, UTI Opportunities recently hiked stakes in the IT space with the addition of Tech Mahindra. It also went underweight on FMCG stock Hindustan Unilever. Hathaway Cable and Datacom, Shree Cement and Adani Ports and SEZ are some of the contrarian picks at this point in time.
[fbcomments]