Do you have a penchant for risk, and are you looking to add some mid and small cap flavour to your portfolio? If you already hold a basket of well-diversified funds, then Franklin India Smaller Companies can be a good addition to your portfolio to get you some kicker returns.
With a return of 40 per cent compounded annually over the last three years, this mid and small-cap focused fund convincingly beat its benchmark's (CNX Midcap) performance of 19 per cent. Its rather offbeat portfolio of both mid and small-cap stocks can provide you with exposure to the lesser-known stocks in the smaller market-cap segment.
Some of the smaller companies that were hit by the downturn, but still managed to keep themselves well afloat in tough years, may be amongst the best placed to use the current recovery to pole vault their fortunes. While this fund has had periods of slack performance, a marked pick up, as a result of a strategy of taking contrarian bets, has delivered results in the last 4 years, thus inspiring confidence.
Suitability
Franklin India Smaller Companies is suitable only if you have a high-risk appetite, and if you are looking for some tactical exposure. Funds in this market cap segment can be highly volatile. Hence, exposure to this fund is best done through SIPs.
Franklin India Smaller Companies takes exposure to stocks of companies that are much smaller compared to other regular mid-cap funds. Hence, the portfolio's risk profile is much more enhanced than mid-cap funds such as IDFC Premier Equity or HDFC Mid-Cap Opportunities.
This fund is, therefore, only suitable for those looking for a high risk-high return proposition. Given the volatile nature of a small cap fund in general, investments need to be done in a phased manner, preferably through Systematic Investment Plans (SIPs). In addition to this, the fund's exposure should not be beyond 10 per cent of the overall equity exposure of the portfolio.
Performance
Franklin India Smaller Companies had a chequered record in its initial years. During the period after the fund's launch, its performance against its benchmark slackened, and its returns in those years lagged the CNX Midcap Index. As highlighted in the chart, it under-performed during the 2007 bull run and 2008 bear run when compared with its index.

However, the fund has reversed its under-performance in the last 4 years, generating returns superior to top quartile performers in the mid and small-cap space. In the last 5 years, the fund beat its benchmark 87 per cent of the times on a rolling one-year return basis (taken every single day in the 5-year period). While that is noteworthy performance, other mid-cap funds have managed to beat the same benchmark 100 per cent of the times, showing better consistency. But then, it is only expected of a much smaller-cap focused fund like Franklin India Smaller Companies to under-perform its slightly larger market-cap benchmark in case of downturns.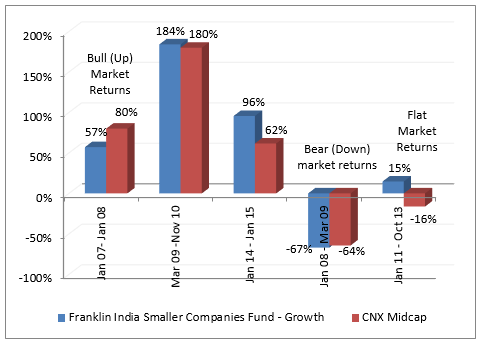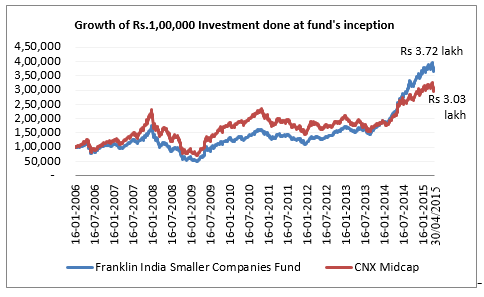 Portfolio
Franklin India Smaller Companies' portfolio has stocks with an average market-cap of about Rs. 6,500 crore. That's less than the Rs. 8,000 crore market cap average of most mid-cap focused fund portfolios.
This, together with the fact that the fund has exposure to sectors/stocks that are not at present held by too many funds, are key reasons for our choice of this fund among the few we would like to pick as ones to ride the economic recovery.
The fund has adequately diversified its portfolio by holding 65 stocks over 25 different sectors. Its top 10 holdings account for just 25 per cent of its portfolio. The fund has consistently adopted a buy and hold approach since inception. It also sports a very low portfolio turnover ratio (just 18 per cent).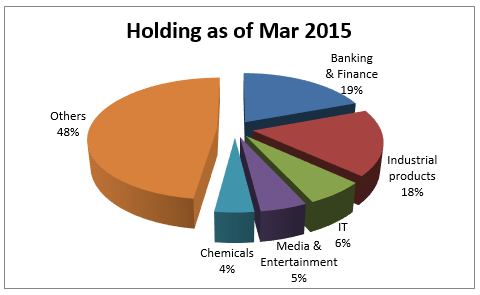 Like most other funds, the banking and financial sector remains Franklin India Smaller Companies' top pick. Industrial products is the second largest sector, followed by IT, media and entertainment, and chemicals.
HDFC Bank, Axis Bank, Yes Bank, IndusInd Bank, and Pidilite Industries were some of the top picks in the large-cap (above Rs. 10,000 crore-market cap) space. Finolex Cables, Eclerx Services, FAG Bearings, Repco Home Finance, and Finolex Industries were some of its top picks in the mid-cap space (Rs. 2,000 to Rs. 10,000 crore-market cap). The fund is managed by R. Janakiraman and Roshi Jain.
FundsIndia's Research team has, to the best of its ability, taken into account various factors – both quantitative measures and qualitative assessments, in an unbiased manner, while choosing the fund(s) mentioned above. However, they carry unknown risks and uncertainties linked to broad markets, as well as analysts' expectations about future events. They should not, therefore, be the sole basis of investment decisions. To know how to read our weekly fund reviews, please click here.
[fbcomments]