Invest in the Bharat 22 ETF and get a 3% discount!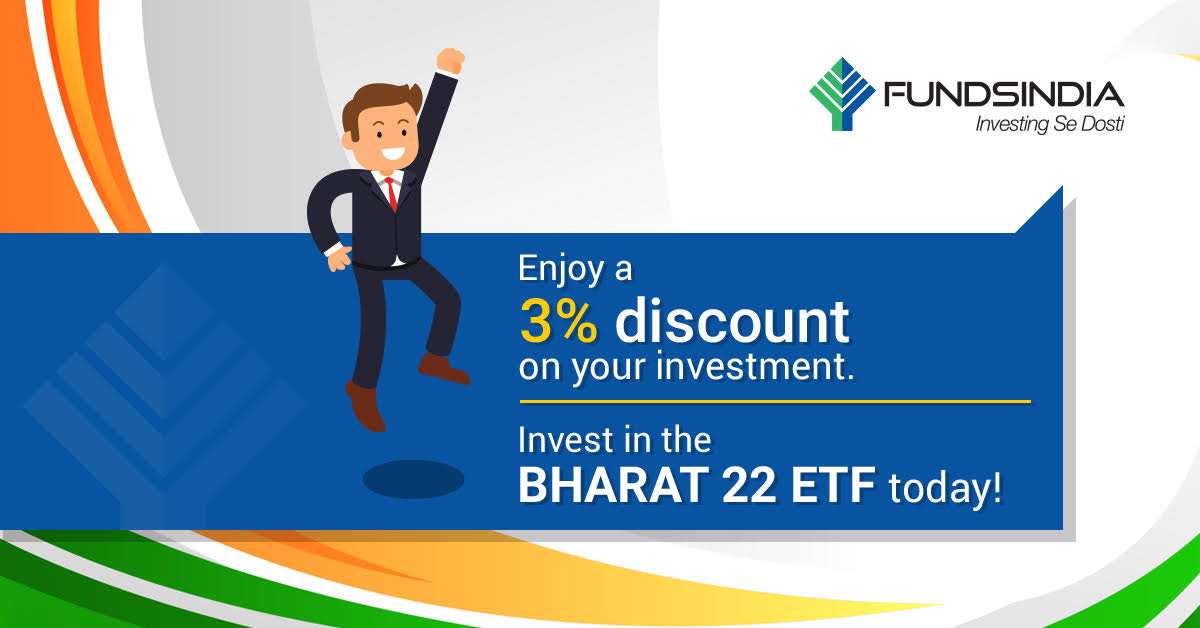 Here's an opportunity for you to invest in the top 22 companies of India, and that too at a discount on your investment! Get started with India's smartest investment platform – FundsIndia!
What is the Bharat 22 ETF?
The Bharat 22 ETF is a diversified basket of stocks of large blue-chip companies, from both the public and private sector.
As the name suggests, the the ETF will invest in 22 stocks in the S&P BSE Bharat 22 index. These stocks are spread across 6 sectors that include basic materials, finance, industrials, energy, utilities and FMCG. Stocks in the ETF will have a maximum weight of 15%, and each sector will only comprise 20% of the portfolio.
Companies from the private sector include Larsen & Toubro Ltd, ITC and Axis Bank.
Why should you invest in the Bharat 22 ETF?
India is in the midst of an economic uptrend. Several reforms by the Government such as GST, a thrust on infrastructure, and promoting financial inclusion, suggest that the stage has been set for economic growth. Simply put, one could invest in the Bharat 22 ETF to benefit from India's growth story.
Benefits investors get by investing in the Bharat 22 ETF
Discount of 3%* for investors of the Bharat 22 ETF during the NFO period (Nov 15 – 17 for retail investors)

Portfolio designed for growth and stability, comprising of a mix of market leaders from different sectors

Own stocks that are reasonably valued and could offer attractive dividend yields

High levels of liquidity

Higher earning potential as index constituents capture government reforms to deliver returns

Diversification reduces volatility and improves risk adjusted returns
To know the scheme details and get started, click here.
Why invest in the Bharat 22 ETF with FundsIndia
Zero account opening charges

Zero account maintenance charges for the first year

Enjoy brokerage-free trading for a turnover of up to Rs. 1 lakh**
India is one of the fastest growing economies globally, and you could be a part of the growth story too, by investing in the Government designed Bharat 22 ETF!
Don't miss out on this opportunity.  Invest in the Bharat 22 ETF with FundsIndia!
---
1) Mutual fund investments are subject to market risks. Please read the scheme information and other related documents carefully before investing.
2) Investments in equity shares, debentures, etc., are not obligations of, or guaranteed by Wealth India Financial Services Pvt. Ltd., and are subject to investment risks.
*Offered by the GoI on the Reference market price (Price determined based on the average of full day Volume Weighted Average Price (VWAP) on BSE Ltd. (BSE) during the Non Anchor Investor NFO Period).
**Offer applicable up to 15 days from the date of activation of the account. The following charges will still be applicable – Stamp duty/charges on delivery: 0.01% of the transaction amount; Securities Transaction Tax on delivery: 0.1% on the transaction amount; turnover tax/transaction charges: 0.0035% on the turnover. GST will be charged at 18%. Account maintenance charges of Rs. 200 a year will be applicable from the second year
[fbcomments]