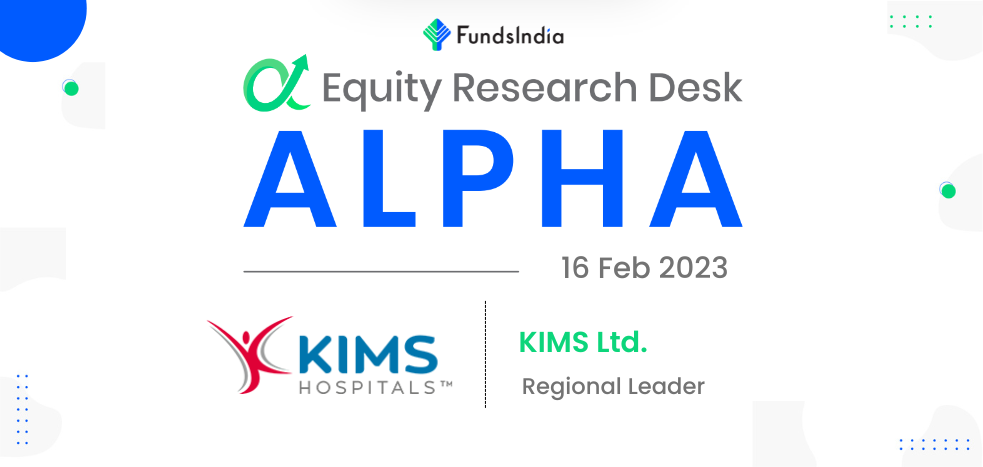 KIMS Ltd. – Regional Leader
Founded by Dr. B. Bhaskara Rao and headquartered in Hyderabad, KIMS Hospitals is one of the largest corporate healthcare groups in AP and Telangana, providing multidisciplinary integrated healthcare services, with a focus on tertiary and quaternary healthcare at affordable cost.
The Krishna Institute of Medical Sciences (KIMS) is the largest corporate healthcare group in Andhra Pradesh and Telangana with a network of 13 hospitals and over 4000 beds spread across Telangana (Secunderabad, Kondapur, Gachibowli, Paradise Circle, and Karimnagar) and Andhra Pradesh (Nellore, Rajahmundry, Srikakulam, Ongole, Vizag, Anantapur, and Kurnool) and Maharashtra (Nagpur).
The Group offers a comprehensive bouquet of healthcare services across specialties and super specialties across more than 25 specialties. The Group's flagship hospital at Secunderabad is one of the largest private hospitals in India at a single location with a capacity of 1,000 beds.
Products & Services:
The group provides Multi specialty care namely Neurology, Cardiology, Pulmonology, ENT, Ophthalmology, Gastro Intestinal care, Oncology, Skin, Paediatrics, Critical services, Pathology, etc.
Subsidiaries: As on 31st Mar 2022, the company has a total of 8 subsidiaries and 1 Joint Venture. KIMS Cuddles Pvt. Ltd was a subsidiary and it was dissolved on Nov 30, 2021.
Key Rationale:
Strong Market Position – Through its network of nine hospitals under the "KIMS Hospital" brand, the group has an established presence in the South Indian market. The group also has a long operational track record of 16 years in the tertiary and quaternary healthcare segments and also benefits from the strong brand reputation and the extensive experience of the group's promoters in the healthcare industry. In terms of specialties, cardiac treatments account for the highest share of revenues at ~17%, followed by neurosciences at ~11% and renal sciences at ~9%. The balance is spread across oncology, mother and child, gastric sciences, orthopedics, and others. The group, with a combined bed capacity of 4000+ beds as on Dec 31, 2022, is one of the leading players in the tertiary care segment in Andhra Pradesh and Telangana. The group's Secunderabad facility is one of the largest single-location hospitals with ~1000 beds, offering multi-specialties. The recent acquisitions of Sunshine & Nagpur hospital have started to perform and enhanced the market presence of the KIMS.
Affordable pricing model – KIMS is focused on offering quality healthcare services at affordable prices, regardless of the market, specialty, or service type. The company has achieved this by controlling capital and operating expenditures along with a multi-disciplinary approach. Also, the company is focused on the high-volume tertiary care model. KIMS treatment costs across medical procedures are on average 20-30% lower than other private hospitals, which gives it an edge over peers.
New expansion – KIMS is expected to incur an annual capex of Rs.350–400 crs over the next two-to-three years on various brownfield and greenfield capacity expansions. It is planning a brownfield expansion of ~700 beds over the next three-to-four years and a greenfield expansion of ~1,000 beds (excluding the 350–400 bed expansion plan at Chennai which has been put on hold). This should expand its total bed capacity by ~42% over the next three-to-four years. A calibrated capex will be managed via internal accruals, with minimal dependence on debt.
Financial Performance – In Q3FY23, Consolidated Revenue from operations grew by 42.8% YoY basis to Rs.562 crs. Recent acquisitions i.e., Sunshine hospital & Nagpur hospital, have shown sequential improvement (ex one-off items) in the EBITDA margin. For Q3FY23, Sunshine's EBITDA stands at 21.9%, and Nagpur's EBITDA stands at 11.1%. The ARPP (Average Revenue Per Patient) was flat QoQ and an increase of 29% YoY at Rs.122631 for Q3FY23. Overall, the company has generated a Revenue and PAT CAGR of 24% and 59% over the period of FY18-22. The company has reported a strong operating profit margin of 32% in FY2022, despite constant capacity addition, including through acquisitions. The company generated a strong operating cashflow CAGR of 32% for the FY18-22 period.
Industry:
The Healthcare industry in India comprises hospitals, medical devices, clinical trials, outsourcing, telemedicine, medical tourism, health insurance, and medical equipment. The industry is growing at a tremendous pace owing to its strengthening coverage, services, and increasing expenditure by public as well as private players. The hospital industry in India, accounting for 80% of the total healthcare market, is witnessing a huge investor demand from both global as well as domestic investors. The hospital industry is expected to reach $132 bn by 2023 from $61.8 bn in 2017; growing at a CAGR of 16-17%. The primary care industry is currently valued at $13 bn. The share of the organized sector is practically negligible in this case.
Growth Drivers:
Over the next 10 years, National Digital Health Blueprint can unlock the incremental economic value of over $200 bn for the healthcare industry in India.
100% FDI is allowed under the automatic route for greenfield projects. For investments in brownfield projects, up to 100% FDI is permitted under the government route.
Over 4 crore health records of citizens were digitized and linked with their Ayushman Bharat Health Account (ABHA) numbers under the Ayushman Bharat Digital Mission (ABDM).
Competitors: Narayana Hrudayalaya, Apollo Hospitals, etc.
Peer Analysis: 
KIMS has the leading Gross Margin, EBITDA Margin, and ROCE when compared with the players in the hospital industry.  The KIMS is trading at an attractive valuation than its peers even though having a strong set of fundamentals.
Outlook:
Sunshine Hospitals recorded growth in Q3FY23 as KIMS started hiring new consultants and replaced several high-cost consultants. The new consultants are expected to join in one-to-two quarters. The Management expects occupancy levels at its Gachibowli hospital to improve to 60-70% from 30-40% at present with the addition of incremental departments. Occupancy levels at its Begumpet facility are expected to improve to 65-70% from the current 40-50% with the shift to a new facility. The ramp-up of this facility is being carried out over the next 18–24 months. Margin is expected to improve with an improvement in occupancy levels. It expects occupancy and margin at Sunshine Hospitals to be in line with matured hospitals in Andhra Pradesh and Telangana by FY25. KIMS expects to scale up revenue from Kingsway Hospitals to Rs.20-22 crs from the current Rs.13-13.5 crs via the addition of new clinical departments and consultants.
Valuation:
We are positive about KIMS based on its robust expansion plan and expected increase in operating beds in the coming years, better occupancy, and continued high margins with a sustained focus on operational efficiency. Hence, we recommend a BUY rating in the stock with a target price (TP) of Rs.1710, 30x FY24E EPS.
Risks:
Competitive Risk – The company is exposed to facility and geographical concentration risks because of its high reliance on a single region viz. (KIMS Secunderabad and Kondapur) Telangana, which contributed 77% to KIMS operating income in FY22.
Regulatory Risk – Like other hospital chains, the group remains exposed to regulations that may come into play, as introduced. For instance, the performance of private hospitals was significantly impacted on account of price caps on cardiac stents and knee implants imposed in the last quarter of fiscal 2017.
Promoter's Pledge Risk – 19.39% of the promoter's shares are pledged which is a considerable amount. Any increase in pledges or the inability to revoke the pledged shares in the future will be a key concern for the company.
[fbcomments]