Between 1997 and 2013, equity funds from the index would have helped you build 4 times the wealth you could have otherwise accrued with the Nifty
No number crunching this week from me! We have some ready-to-crunch data offered by CRISIL-AMFI on mutual fund performance.
For all those mutual fund investment skeptics, the recently launched CRISIL-AMFI mutual fund indices' performance will be proof enough to know that mutual funds as an investment class outperformed broad markets comfortably over the long term and also across various market phases.
The CRISIL-AMFI Mutual fund performance indices seek to track the performance of mutual funds across categories and has back-dated performance beginning April 1997. The index had 113 underlying equity schemes as of March 2013.
Wealth builders
For starters, let us explore the CRISIL-AMFI Equity fund performance index. This index delivered an annualised return of 22% in the last 16 years (ending March 2013) as against the CNX Nifty's annual returns of 12%. Now where does that leave you in terms of building wealth? Had you invested Rs 1,000 in this equity fund index on April 1 1997, you would have had Rs 22,950 as of March 2013.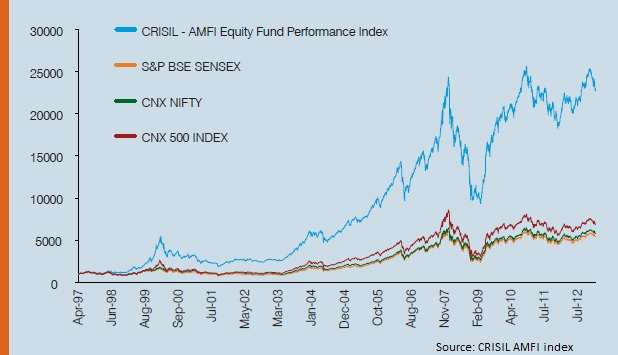 That's about 4 times the money that the market index CNX Nifty (Rs 5,860) would have generated for you. But please note that these returns are for funds that are present in the index and not the entire category of equity funds. Also a wrong fund choice, perhaps one not present in this index, could well have also pulled down returns.
Across market phases
The index' performance also proves that equity mutual funds have done well across bull and bear market phases. Barring the tech bubble when the excessive exposure taken by funds in the IT sector hit them badly, equity mutual funds have done well since, both in up and down markets.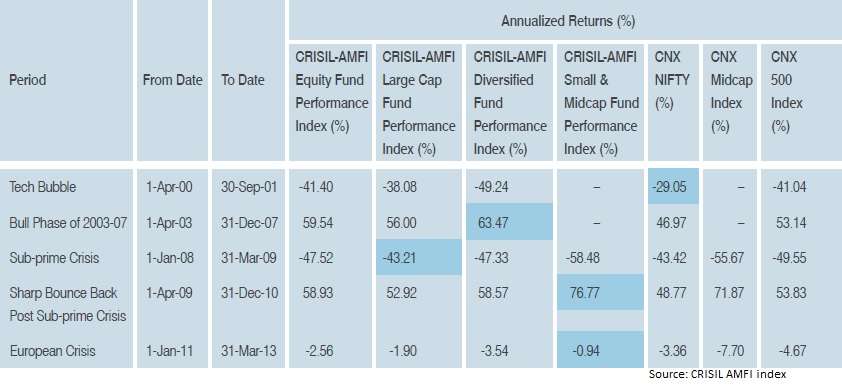 The table is evidence to the multiple options that mutual funds provide to ride the markets. While mid and small-cap funds helped capitalise the market momentum during a bounce back, large-cap funds have largely helped contain declines during falls such as the one seen during the sub-prime crisis.
Great for long term
The index' rolling return data also points to the fact that mutual funds not only outperform in the long term but also provide consistent returns.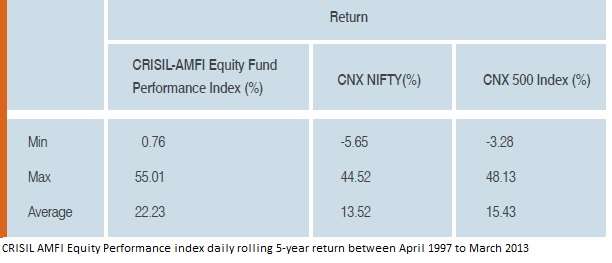 The study did a rolling five-year returns on a daily basis that revealed that the CRISIL-AMFI Equity fund index never delivered negative returns for a five-year investment horizon. That means irrespective of when you invested between April 1997 and March 2013, your returns would never have been negative. This, despite that in the said 16-year period, equity markets went through at least 3 major bear phases.
The CRISIL AMFI study has some interesting data for other categories of mutual funds as well. We will share those with you in ensuing weeks.
[fbcomments]