Well, my answer is 'it depends'. Don't be disappointed. If you knew the factors that determine the number of funds you need to hold, you will likely have the answer yourself. So here's what you need to take into account before choosing the number of funds to hold in a portfolio.
The amount
While this is not the first thing to really influence your decision, it is the most practical point to consider when investing, especially by small, retail investors. If you had Rs. 1,000 or Rs. 2,000 to invest every month, you can't possibly have an asset balanced, category allocated, and style-diversified portfolio of funds. It leaves you with an option of one or two funds at best.
When you have a single-fund portfolio, it is a good idea to get these right: one, the choice (debt or equity fund) of asset class based on your time frame; two, if it is an equity fund, do not hold a mid/small cap, theme, or international fund as the one fund you hold.
Often times, this is one reason why many first-time investors are disenchanted with mutual fund investing. They would have chosen a risky fund to begin with, and would have probably burnt their fingers in a down market.
If you have a higher sum to invest – say Rs. 5,000 or above, then arises the question of asset allocation and diversification.
Asset allocation
If you need to allocate across asset classes, then you may need 2 or more funds, unless you think a balanced fund would suffice. If you are investing in a portfolio with a specific goal in mind, then ensure you have a proper asset allocation based on the goal and time frame.
If you are clear that you have already allocated certain sums outside of mutual funds for certain asset classes like debt or gold (say deposits or physical gold) for the said goal, then this might be a less significant factor to consider. Otherwise, asset allocation helps capitalise the returns across various asset classes, while acting as a hedge against the other assets.
Once you decide the proportion of equity, debt or gold to hold – the next requirement would be to decide how many funds to hold within each asset class.
Diversification
Now, this is key. If you are an investor who does not think you need a portfolio diversified across market cap or different styles of investing, then holding one or two diversified equity funds, and perhaps an income fund for debt may suffice, provided you are a long-term investor.
Of course, when you have a concentrated portfolio, make sure you get the funds reviewed at least annually as the risk profile of your portfolio would be high as a result of taking fewer bets.
But if you like to diversify across higher risk and lower risk funds, and across fund houses and fund management styles, then you will need more funds. Here are some general tips that may help you in your choice:
Diversification across market-cap segments
1. You don't need 'diversification' across large caps. This is because, given the restricted universe within which large-cap funds can operate, you are unlikely to get different sets of stocks, or markedly varying styles of investing. Hence, unless you want a portfolio of only large caps, holding one large-cap fund should do the job for you.
2. Diversified/multi-cap funds come in different forms and shape. But largely, most of them have a large-cap bias, and seldom go overboard on mid-cap stocks. Funds such as Mirae Asset India Opportunities, or UTI Opportunities are good examples. Hence, if the amount you can spare to invest is not high, and you have a moderate risk appetite, you can even skip a large-cap fund and choose a diversified fund with a good track record.
You can specifically ask your advisor to provide you with a relatively low-risk diversified fund if you are skipping the large cap category. This is one way to ensure your portfolio remains compact.
3. A mid-cap fund is a good addition if you are building wealth for the long term and can take some risk. But in general, given that it is not too prudent to hold over 30 per cent of your portfolio in mid-cap funds, you may not be able to accommodate too many funds within this segment.
If you are going for just one fund – choose one that invests in mid-caps, but not too much in small caps, and has at least a fifth or more in large caps as well. Just to illustrate, within FundsIndia's Select Funds' list, funds such as HDFC Mid-Cap Opportunities, BNP Paribas Mid Cap, or Franklin India Prima will fit this description well.
If you are the aggressive kind and need funds that explore lesser known stocks, then adding one more is fine, provided you have that much money to spare. Again, to illustrate, funds such as Franklin India Smaller Companies or UTI Mid Cap may fit this description.
4. While it is market-cap segment in equities, it is portfolio maturity and credit risk in debt. Here, too much diversification is not required as most funds follow the interest rate cycle and invest accordingly. As a thumb rule, if your time frame is short, go for funds with low portfolio maturities (short-term debt funds). You don't need too many funds in this category.
If you are looking for long-term investing in debt, the simplest option to avoid crowding is to choose a fund that will invest across instruments (gilt, corporate bond, commercial paper, deposits), and also vary its portfolio maturity based on the interest rate cycle. 1-2 funds should suffice.
Funds that will take exposure to credit, and specifically have corporate bonds as a theme, etc., are only for risk takers. View these as equivalent to holding theme funds in equity.
If you have done your diversification across market-cap segments (that roughly provides a diversified risk profile), do not bother too much to diversify across styles such as growth, value, contra, dividend yield, etc., unless, you really understand them and see merit in such diversification.
Why am I saying this? Because most of the time, you would have already got mixed styles when you attempted the earlier point we discussed. Besides, many funds have a thin line of differentiation across these styles; in other words, most funds mix and match these styles. A growth fund may take a value form in some markets too!
If you have these as a part of pre-packaged portfolios, good for you. If you are choosing on your own, then make sure that you know what style of investing suits certain market conditions before you invest.
In our opinion, this stage is something you can skip unless you keenly follow certain schools of investing (like you are a hard core 'value's seeker).
Other diversity
Theme funds, international funds, and so on are all add-ons to your portfolio. The allocation you can give to them is best restricted to 10-15 per cent; and that means the number of funds you can hold in this space cannot exceed one or two.
Again, unless you have some conviction in this diversification – either for the sake of seeing some high returns, or for true geographic diversification/hedge – this is also something that you can skip in your endeavour to keep your portfolio compact.
Same funds for different purposes
All that we are talking of here is the number of funds for a single portfolio that is built towards a specific goal. So, you may have 3 funds for your child's education and 4 funds for your retirement. Treat each portfolio as a unit. In this, no harm in having the same funds earmarked for different goals. After all, if a fund performs well, it is only good to have them for your goals, albeit different ones.
No one size, but…
Here's a table just to give you an idea of how to decide the number of funds in a portfolio.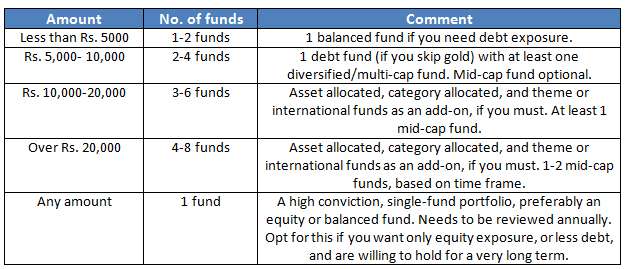 The above is merely suggestive and assumes a long-term 5-year holding at least. As discussed above, those who love diversification may choose more, and those who like to keep it compact may keep it less within the categories.
[fbcomments]