ICICI Prudential Balanced Advantage Fund (earlier called 'ICICI Pru Equity – Volatility Advantage Plan', or 'ICICI Pru VAP') has adeptly managed the volatile markets of the last five years to deliver compounded annual returns of 15 per cent. This is better than the benchmark's (Crisil Balanced Index) return of 10 per cent.
Its performance has pushed it to the spotlight over the last few years. What exactly is this fund's strategy and how different is it from balanced funds? Read on!
The Fund and its Suitability
ICICI Prudential Balanced Advantage is classified as an equity-oriented balanced fund in most places. It seeks to hold at least 65 per cent in equities, like most other balanced funds, and the rest in debt. This fund uses an in-house model, based on a long-term, historical mean Price to Book Value (P/BV), with a view to limit the downside risk during a falling market, while aiming to capture the upside in a rising market. The fund will have the flexibility to hedge its equity positions with derivatives, and also take on derivative positions in the index.
Simply put, the fund uses derivative hedging strategies in its equity holding. As a result of using active hedging strategies, it is a notch less risky than regular balanced funds, especially in volatile/down markets.
But that also means that in sudden rallying markets, the fund's hedged positions, if any, may place a cap on the returns it can manage. The fund is, therefore, suitable for investors who are looking for returns higher than debt-oriented funds (such as Monthly Income Plans – MIPs), and wish to take risks lower than balanced equity funds.
The key positive about this fund is its ability to reduce risks even while being classified as an equity fund for tax purposes. That means you have zero capital gains tax in the fund if held for more than a year, while assuming risks that are a few notches higher than regular debt-oriented funds.
Performance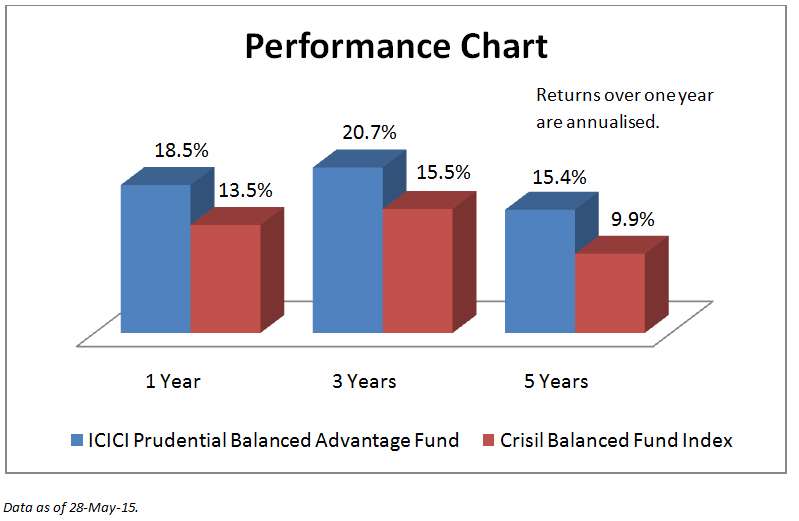 ICICI Prudential Balanced Advantage has built a track record of beating its benchmark almost all the times on a rolling one-year return basis for the last five years. However, it took a good bit of hit in 2008. Its higher cash equity position at the beginning of the year did cause some damage. But it managed the market fall in 2011 much better, falling by 8.7 per cent, even as the benchmark fell by over 14 per cent.
That said, in sharp rallying markets, a defensive position could cap returns. In 2014 for instance, the fund delivered 11 percentage points lower returns than the balanced fund category-average, suggesting that its hedging strategy worked against it. But in markets such as 2012, when rallies were more predictable, the fund changed its track with ease and managed returns superior to its category.
Had you started a Rs. 10,000-a-month Systematic Investment Plan (SIP) in ICICI Prudential Balanced Advantage five years ago, you would have a handsome Rs. 9.35 lakh today. That's an annual yield of 18 per cent. The benchmark, Crisil Balanced Fund Index, on the other hand, would have fetched just Rs. 8.1 lakh; that's an Internal Rate of Return (IRR) of 12 per cent annually.
It may be fair to position this fund between debt-oriented funds such as MIPs, and balanced funds in terms of its risk-return profile.
Portfolio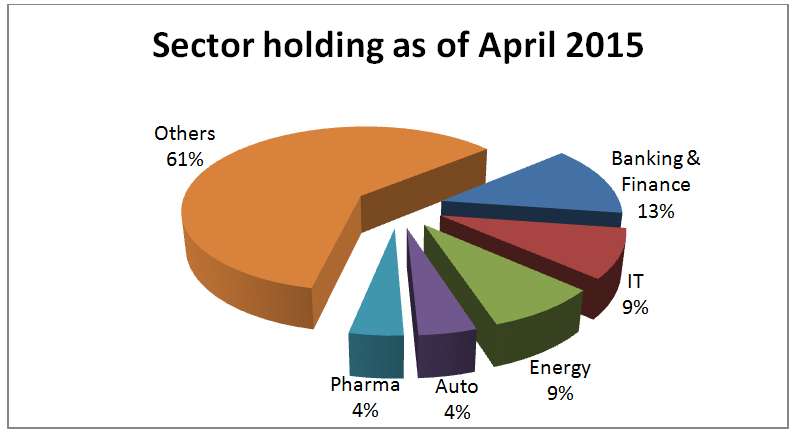 ICICI Prudential Balanced Advantage has a blend of large and mid-cap stocks. The fund continues to have a high proportion of large caps as the valuation difference currently makes large caps attractive, compared with mid-caps. While large cap stocks represent established enterprises selected from the top 100 stocks by market capitalisation, mid-caps are smaller business entities with long-term growth potential. The allocation is decided on a tactical basis, rather than any pre-defined ratio.
As of April 2015, its net equity exposure was 54 per cent, after adjusting the derivatives exposure. The below chart depicts how the fund varied the net equity exposure over the different markets scenarios based on the in-house Price to Book Value model.

The fund holds a more diversified portfolio of about 70 stocks over 25 different sectors. Its top 10 holdings account for 35 per cent of its portfolio. It also sports a low portfolio turnover ratio (just 0.33 times).
The fund's debt portfolio, unlike its sister fund – ICICI Prudential Balanced, is skewed towards short-to-medium term maturity instruments. For instance, as of April, its debt portfolio sported an average maturity of 1 year compared with the balanced fund's maturity of 8.7 years. It held about 11 per cent exposure in certificates of deposits from banks and commercial papers. It also held around 9 per cent exposure in government securities.
The fund is managed by Manish Gunwani and Manish Banthia. The fund was launched in end 2006 and has been renamed thrice.
FundsIndia's Research team has, to the best of its ability, taken into account various factors – both quantitative measures and qualitative assessments, in an unbiased manner, while choosing the fund(s) mentioned above. However, they carry unknown risks and uncertainties linked to broad markets, as well as analysts' expectations about future events. They should not, therefore, be the sole basis of investment decisions. To know how to read our weekly fund reviews, please click here.
[fbcomments]