If you believe that the next several quarters will pave the way for a sustained recovery in our economy, then this could be a good time to take exposure to cyclical sectors that are likely to benefit the most from such a rebound. Franklin Build India is a fund that will invest in multi-themes (infrastructure, resources, finance, social development, and agriculture) that are meant to act as building blocks for the economy.
This fund could be a good option for investors who are looking for the above-said opportunity, and who have a high risk appetite.
We reviewed this fund in 2013 and recommended it ahead of the elections in February 2014. We had highlighted, in our previous review, that this fund would hold companies that are early beneficiaries, given its exposure to key themes.
The fund delivered over 100 per cent returns in the last one year, and 37 per cent returns compounded annually in the last three years. If you had invested in this fund through Systematic Investment Plans (SIPs) since its inception in September 2009, you would have generated a handsome Internal Rate of Return (IRR) of 30 per cent since then. Of course, the launch coincided well with the market recovery.
The Fund
Franklin Build India may, on the face of it, seem like an infrastructure fund. However, having seen the difficulties faced by other fund houses in keeping a narrow mandate, Franklin Templeton India wisely chose a much larger investment universe for this fund. The fund seeks to invest in sectors that form the building blocks of the economy; that would mean infrastructure, natural resources, financial services, agriculture, and also other themes that are proxy to social development.
This may not seem too different from what a diversified fund would invest in. That's true to an extent. In fact, the fund has classified itself as a diversified fund and set itself a broad index, i.e., CNX 500 as its benchmark.
Then why would we choose this fund? Simply because, at this point, we still find pure infrastructure themes, and the funds that invest in them, to be risky, given that they are still debt laden, and only in the early stages of de-leveraging without any meaningful earnings growth.
A fund such as Franklin Build India would provide adequate exposure to the theme without going overboard.
While it may not be wrong to say that this fund's universe is rather diversified, you are unlikely to see this fund take very high exposure to software, consumer themes, or those that piggyback on the consumption story. On the other hand, it is likely that this kind of fund would have more intense exposure to infrastructure, energy, engineering, or cement sectors, than pure diversified funds.
Suitability
Franklin Build India is suitable only for investors with a high-risk appetite, and for those who are looking for the 'next theme' to invest in. You should have a 3-5 year time frame and consider an SIP of at least 1-2 years and then hold after that.
However, we would strongly recommend that you talk to our advisors for an annual review on the fund, given that most of the sectors it takes exposure to, are cyclical in nature.
So will this fund outperform infrastructure funds when there is an infrastructure recovery story? Since it invests across the broad set of themes, it may not be a top performer among infrastructure funds. However, at this juncture, this fund appears less risky to play the themes we mentioned earlier, and may be better than diversified funds to play such themes, in an upturn.
Performance
Franklin Build India's one-year returns, rolled every day since its launch, suggests that the fund beat its benchmark, CNX 500, 80 per cent of the times. When we reviewed this fund in February 2014, the fund beat its benchmark 76 per cent of the times on a rolling 1-year return basis over the 3-year period. Now this record improved to a good 100 per cent of the times. This outperformance is noteworthy for a thematic fund.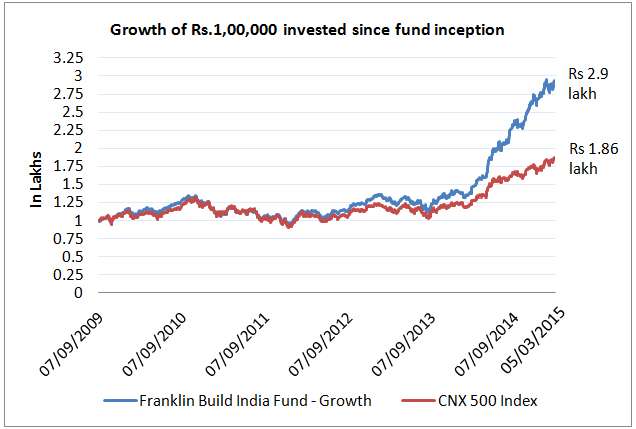 The fund also deviates less from its mean returns (measured by standard deviation), suggesting that its performance is not too volatile.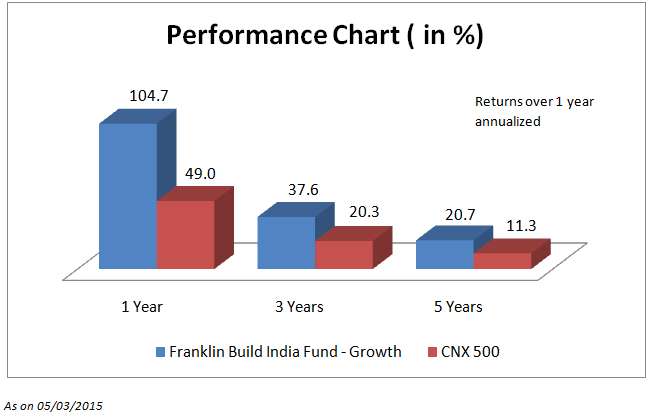 Portfolio
Franklin Build India held about 58 per cent of its assets in large-cap stocks with a market cap of over Rs. 10,000 crore as of January 2015. Its average market cap holding at Rs. 26,270 crore means that it mostly holds stocks larger than ICICI Pru Infrastructure (average market cap of close to Rs. 22,000 crore) and HDFC Infrastructure (Rs.19,600 crore).
While banks, cement, telecom services and automobiles are some of the 'cyclical sectors' in its portfolio, the fund still has some exposure to other sectors such as pharma and FMCG.
Franklin Build India has a blend of large and mid-cap stocks. It maintained its average large cap (market cap of above Rs 10,000 crore) exposure at 59 per cent in the last three years. It seldom moves to cash and tries to stay fully invested in equities (at around 93 per cent). The fund has consistently adopted a buy and hold approach since inception. It also sports a low portfolio turnover ratio (just 0.55 times).
Axis Bank, Idea Cellular, Maruti Suzuki India, SBI, ICICI Bank, and HDFC Bank were some of its top picks in the large cap space. Sanofi India, Timken India, Whirlpool India, SKF India, and Orient Cement were some of its top picks in the mid-cap space.
The fund is managed by Anand Radhakrishnan and Roshi Jain.
*Mutual Fund investments are subject to market risks, read all scheme related documents carefully. Past performance is not indicative of future results. To know how to read our weekly fund reviews, please click here.
[fbcomments]