If short-term volatility in equity disturbs you and if you have moderate return expectations, then the hybrid equity-oriented fund – Edelweiss Absolute Return, could be your choice for the medium term of 2-3 years.
The fund delivered 17.6 per cent annualised returns over the last three years, convincingly beating its benchmark's (Crisil MIP Blended Index) return of 10.3 per cent annually. Its return over this period is also not far from CNX Nifty's return of 18.4 per cent annually, although it is not a pure equity fund.
The Fund
Edelweiss Absolute Return Fund will seek to generate returns with low volatility as compared with regular equity funds. For this purpose, it will use an active derivative strategy by hedging its stocks, or taking market calls by owning index futures.
As a result, its net exposure to equity (post derivatives) can be lower than the mandated 65 per cent needed for a fund to be qualified as an equity fund for tax purposes. However, since derivatives are also treated as equity, the fund will be an 'equity fund' for tax purposes; however, it will not generate equity-category returns.
Edelweiss Absolute Return Fund has benchmarked itself against the Crisil MIP Blended Index as it considers itself to be protecting downsides in a manner that is similar to Monthly Income Plan (MIP) funds. This fund's return profile though (post risks) can be said to be lower than a balanced fund, and marginally higher than a MIP.
Suitability
If any of the following features appeal to you, and your investment requirements match the below mentioned points, you may hold the fund:
– Edelweiss Absolute Return Fund is not your regular equity fund. As you will see from the data below, the fund has contained downsides exceedingly well in a down market such as the one in 2011, and a volatile market like in 2013; however, it has underperformed the CNX Nifty over 1-year time periods. It has, on most years, comfortably outperformed its own index (MIP Blended), albeit underperforming it in 2011. This fund is, therefore, suitable for those looking for returns that will come with low volatility. If you are happy with MIP-plus returns over a 2-3 year period, and need an 'equity-like' tax status (capital gains over 1 year exempt from tax), then this fund will fit your requirement.

– While dividend would not be the primary reason for us to recommend this fund, the fund has been reasonably consistent in declaring quarterly dividends. It is noteworthy that equity dividends are free of dividend distribution tax.
– Do not expect this fund to provide you with debt exposure the way a balanced fund would. It's exposure outside of equity is mostly derivatives and short-term money market instruments. Hence, you cannot seek this fund for any debt allocation. Rather, you can expect it to provide your equity portfolio some hedge that is similar to debt, but not exactly the way debt would. You will see what we mean when you look at the image on asset allocation we have further below.
– If you are a long-term investor with a time frame of five years or more, we think equity funds should form the core of a portfolio than these specialised funds as the primary objective of building wealth is better done with equity funds. This is because specialised funds such as this tend to cap the upside returns in prolonged market rallies, and therefore, tend to underperform pure equity funds in the long run.
You can also use this fund as a part of your diversification / asset allocations strategy. The below image (Source: AMC website) is an example of your portfolio returns if you added this fund to your equity and debt allocated portfolio.
The equity and debt portfolio mentioned below (as modelled by Edelweiss AMC) consists of funds that have a track record from 2005, and have fulfilled a minimum asset criterion as of January 2014 (Rs. 2,000 crore). Debt excludes liquid and ultra short-term funds. Equal AR is a model portfolio that reflects Edelweiss Absolute Returns' strategy. For more details and to check different allocation combinations, please click here.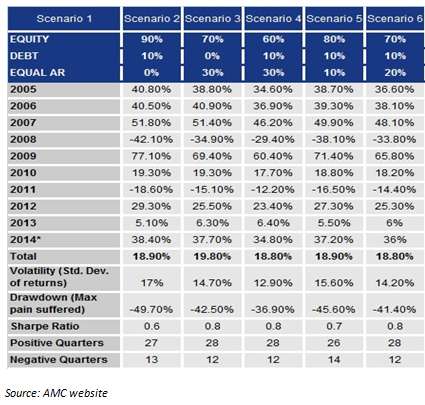 Performance
Edelweiss Absolute Returns Fund has comfortably beat its benchmark over 1-, 2- and 3-year time frames. It beat the CNX Nifty as well over 1- and 2-year periods, and comes close to delivering its return over a 3-year period. On a rolling-return basis (rolled daily) from 2010, the fund has had negative 1-year returns. However, over two and three year periods, it overcame this limitation and never delivered losses.
That means that its ideal holding period (based on past performance) would be 2-3 years if you wish to avoid losses. The fund features high on a risk-adjusted basis, even when compared with balanced funds over time frames of less than three years. This suggests that the fund delivers better returns for a given unit of risk over the short to medium term.
Portfolio
Edelweiss Absolute Return Fund has a large-cap predominant portfolio of stocks. It has overweight exposure to financials, Fast Moving Consumer Goods (FMCG), and pharma – a consequence of its large-cap exposure.
As of June 2015, its exposure to equities was 66.5 per cent (not considering reversed positions in derivatives). This has been roughly the level of its equity holding over several months now.
Aside of the above equity, it held Nifty Index futures (1.29 per cent), money market and reverse repo investments (36.38 per cent), and a small proportion in deposits. Reversed derivative positions were to the tune of -6.4 per cent. When markets move steadily upward (as was seen in late 2013 and a good part of 2014), the fund tends to hold higher unhedged equity positions to gain from market rallies. As a result of higher unhedged exposure, the fund managed to deliver close to Nifty returns during rallies.
Edelweiss Absolute Return Fund is managed by Ashish Sahay. It has Rs. 381 crore of assets as of June 2015.
FundsIndia's Research team has, to the best of its ability, taken into account various factors – both quantitative measures and qualitative assessments, in an unbiased manner, while choosing the fund(s) mentioned above. However, they carry unknown risks and uncertainties linked to broad markets, as well as analysts' expectations about future events. They should not, therefore, be the sole basis of investment decisions. To know how to read our weekly fund reviews, please click here.
[fbcomments]