Franklin India Flexi Cap is a fund that is often overlooked in the multi-cap category. In the five-year period, the fund has returned 12.3 per cent, compared to the category's average 11 per cent gain. That places it in the top quartile of funds in its category. On consistency in beating the category and its benchmark, Nifty 500, the fund does extremely well.
Franklin India Flexi Cap is positioned between the two other multi-cap funds from the Franklin stable – Franklin India Prima Plus and Franklin India High Growth Companies. In its market-cap orientation, Flexi Cap is similar to Prima Plus.
While Flexi Cap has a good performance record compared to its category and benchmark, it is yet to beat its Franklin siblings, either on risk-adjusted returns or on volatility in returns.
Portfolio and performance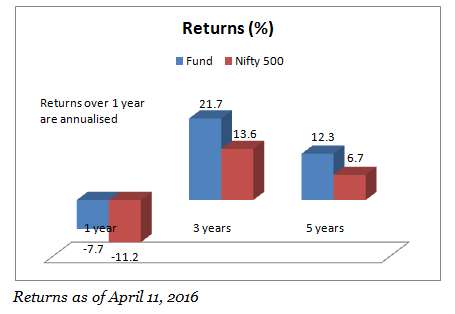 In the three and five year periods, Flexi Cap has been a top-quartile performer. Across all time-frames, the fund has beaten its benchmark, Nifty 500, by a margin of three to eight percentage points. Over the past five and ten years, on rolling three-year returns daily, the fund has done better than the Nifty 500 nearly all the time, indicating a great record of consistency. In both market downturns and upturns, Flexi Cap has comfortably beaten the category average and its benchmark.
On its own, therefore, Flexi Cap is a good performer. But given that the Franklin fund house has other diversified schemes, a comparison to them is merited. It is here that Flexi Cap's performance does not match up. First, in keeping losses in check. Flexi Cap does clock smaller losses than category and benchmark during market downturns, but Prima Plus is far better at it. Flexi Cap loses on maintaining lower volatility in its returns – its standard deviation in returns is higher than its category average (as well as Prima Plus). Second, in delivering higher risk-adjusted returns. Here, both Prima Plus and High Growth Companies steal a march over Flexi Cap by generating better returns for the level of risk taken.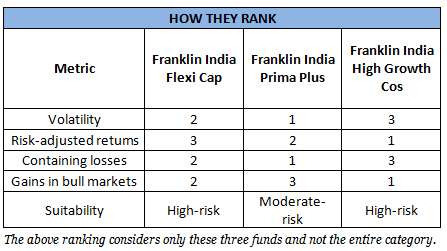 Sector changes
Flexi Cap does not churn its portfolio too often; however, it usually has a high sector concentration. It puts around 65 to 70 per cent of its portfolio in large-cap stocks and the rest in mid-caps or small-caps. Over the past couple of years, the traditional triumvirate of banks, software, and pharmaceuticals have more or less been the top sector holding.
However, exposure to banking was cut from the 30 per cent at end 2014 to 26 per cent now as performance of the sector petered out though it still is the top sector in the portfolio. It primarily holds private sector banks. It similarly dropped exposure to pharmaceuticals, a prudent move with stocks reacting sharply to troubles over FDA approvals, besides higher valuations.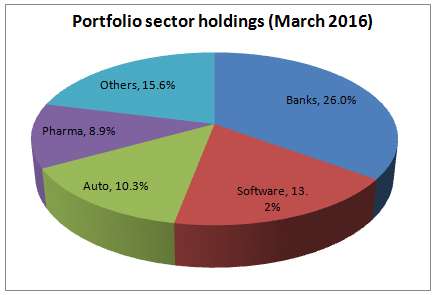 In software though, its holding rose over the past year. Flexi Cap is among the few funds that holds US-listed Cognizant Technology, among the best performing software companies. It also added TCS, the stock's correction last year offering a good opportunity. The fund also upped holding by a significant margin in automobiles, bringing it into the top three now, as steadily improving sales and a commercial vehicle revival cemented prospects for the sector. The fund has, however, pared some holding in Maruti Suzuki, which had run up sharply in favour of the more reasonably valued Tata Motors and M&M. In the past year, the fund brought about a good balance of consumer and cyclical themes after the swift run in 2014; it booked profits in sectors that gained sharply such as construction and auto ancillaries. It now therefore has a mix of sectors such as engineering, construction, cement, petroleum, telecom, and FMCG.
Franklin India Flexi Cap holds a good track record. While its market-cap tilt is ideally suitable for moderate-risk investors, Flexi Cap's higher volatility warrants a higher risk appetite. So for moderate risk investors, Franklin India Prima Plus remains the better option. For high-risk investors, Franklin India High Growth delivers much better. An improvement in the risk-adjusted returns of Franklin India Flexi Cap can lead to a swing in its favour. The fund is managed by Anand Vasudevan along with R. Janakiraman and Roshi Jain. It has an AUM of Rs. 2,763 crore.
FundsIndia's Research team has, to the best of its ability, taken into account various factors – both quantitative measures and qualitative assessments, in an unbiased manner, while choosing the fund(s) mentioned above. However, they carry unknown risks and uncertainties linked to broad markets, as well as analysts' expectations about future events. They should not, therefore, be the sole basis of investment decisions. To know how to read our weekly fund reviews, please click here.
[fbcomments]