If you take a decade or more of mutual fund performance, you will see funds that stood tall in certain markets but later slipped somewhere in their market journey.  Some find it hard to regain glory while others strive to make a comeback. DSP BlackRock Opportunities belongs to the latter. What's more, in the process, the fund's fundamentals appear to be growing steadier and less flashy. This is a fund we are now keeping an eye on to see if it climbs up without compromising on consistency.
The fund
DSP BlackRock Opportunities is among the few equity funds with a track record of over 16 years (launched in May 2000) and one that remained true to its strategy. It is a go-anywhere fund but mostly with a tilt of around 70% in favour of large caps. It is fair to compare this fund with any multi-cap/diversified equity fund. Only, the fund appears more active in its strategy; swiftly cutting down or upping exposure in sectors, as it sees opportunities, and booking profits in stocks and moving on. This is visible from its high portfolio turnover ratio. This fund's risk profile would be similar to other multi-cap funds.
Performance
DSP BR Opportunities saw a marked improvement in its performance post 2014. This was not only visible in its absolute returns but also in its risk-adjusted returns. From languishing in the third quartile in terms of risk-adjusted returns (measured by sharpe for daily rolling 1 year periods over 3 years) in 2014, within its category, it steadily climbed to the top quartile in 2015 as well as in 2016.
The fund also beat its benchmark 100% of the times, when returns are rolled over 1 and 3 year periods. But it is yet to measure up on the same metric in terms of beating its category average. Funds such as Franklin India Prima Plus, for example, showcase better consistency in beating peers. However, the fund may see improvement in this metric as well; once it is less shadowed by past years of mediocre performance.
What is particularly interesting is that the fund has also become less volatile in its present avatar as opposed to what it was 10 years ago, in 2006. Its standard deviation was at least 10 percentage points higher than its category average in 2006. That means it was far more volatile than its peers. Now over 2015 and 2016 its deviation is lower than its category average by over 5 percentage points. In other words, it is trying to be more consistent in its performance.
Portfolio
DSP BR Opportunities' turnaround in performance does not appear to be triggered by a single event nor did it happen at a point in time. Rather, sector shuffles, including reducing IT, timely increase in metal holding and active profit booking in financial services, even as it kept its overweight position in the space and opportunistic calls in auto and construction all worked in its favour. While there was no massive change in portfolio post the new fund manager's takeover in June 2015, addition in key construction stocks as well as shift in weights to quite a few stocks and sectors was visible. In hindsight, these worked well for the fund.
DSP BR Opportunities provides ample evidence that it is a true opportunity fund. Its portfolio turnover is high at 192% (last 12 months ending September 2016). Compare this with that of Reliance Equity Opportunities (43%) or Kotak Opportunities (51%) and you know the high activity in the fund. Such high turnover is seen in dynamic funds or those that use a bit of derivatives.
Often, a high turnover can result in high volatility as active management can cause swing in returns. But as discussed earlier, the fund has been scoring low on volatility. This suggests that the fund has been very systematic in identifying exits, reducing exposures and entering new stocks seamlessly. Its tactical sector shifts too suggest this. For example, it steadily built exposure to the auto sector to as much as 13% in November 2015 and then slowly reduced exposure to 6.9% by September 2016. Tata Motors is a classic example of such a stock where building positions and reducing stakes steadily delivered high returns. Stock calls in the construction space also paid off well.
The fund is now overweight in sectors such as financial services and pharma, the latter being a more contrarian call.
In individual stocks too, its opportunistic calls paid well. It built timely positions in Vedanta and reduced exposure in recent months but made handsome gains in the commodity rally.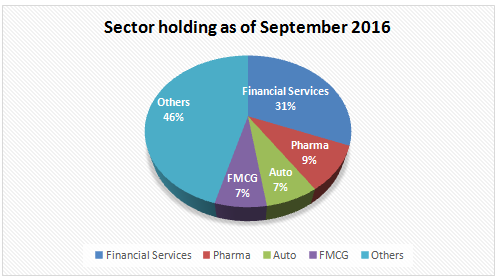 While there are calls where the fund cashes out and moves on, there are conviction calls too. SBI is its top pick in its portfolio with a 6.8% holding as of September 2016. The fund has been accumulating the stock in the past 6 months.
The fund takes a concentrated stock approach. The top 10 stocks account for close to 40% of the portfolio. But then it has a long tail, with a portfolio of 50-60 stocks. That means while success in top picks will have a telling impact, effect of negative calls at the top will also reflect on performance. However, among the long tail of stocks, especially the ones done tactically, any negative impact may be muted if a good chunk of the portfolio still outperforms. DSP BR Opportunities saw a change in fund management in June 2015. It is now managed by Rohit Singhania.
FundsIndia's Research team has, to the best of its ability, taken into account various factors – both quantitative measures and qualitative assessments, in an unbiased manner, while choosing the fund(s) mentioned above. However, they carry unknown risks and uncertainties linked to broad markets, as well as analysts' expectations about future events. They should not, therefore, be the sole basis of investment decisions. To know how to read our weekly fund reviews, please click here.
[fbcomments]