What?
A debt-oriented fund with over 85% in debt and the rest in equity
Risk profile higher than pure debt funds and lower than balanced funds
Why?
Contains volatility in changing interest rate scenario
Consistently delivers category-beating returns with a low-risk strategy
For whom?
For conservative investors with a 2 to 3-year timeframe
For investors looking for debt-oriented funds with low volatility
A recent entrant into the hybrid debt category in FundsIndia's Select list is SBI Magnum MIP – Floater (SBI Magnum Floater). The fund is among the lowest risk in the debt-oriented hybrid category, both in terms of its allocation towards equity and debt as well as in its management of its debt exposure.
SBI Magnum Floater is a good fit for conservative investors with a 2-3 year timeframe looking to generate returns higher than FDs without taking on too much risk. In the 3-year and 5-year timeframes, SBI Magnum Floater returns of 12.6% and 11.2% is about a percentage point more than the category average. The fund, though, is different from most in its category and ideal for conservative investors.
It keeps its debt in very short-term instruments, bringing stability to returns. The fund follows a pure and simple accrual approach to its debt portfolio. It restricts itself to very short-term debt with instruments such as CPs, CDs, and treasury bills averaging about 80% of its portfolio over the past five years. It does not try to play the interest rate cycle actively through gilts as almost all other MIPs are wont to do. It maintains an average maturity around 1 year at most times. This brings stability to returns through steady accrual. The fluctuations that come with a duration strategy and longer-term bonds is not as high here as with other funds. The fund's volatility, measured by standard deviation, has been among the lowest in its category across the years. No other fund matches this one's ability to keep volatility consistently low.
This approach does see returns drift down when rates fall, since the portfolio adjusts to new rates quicker and because it does not follow a duration strategy. It also means that its overall return will be lower than the more aggressive funds such as ICICI Pru MIP 25. SBI Magnum Floater's 1-year returns places it in the bottom quartile of its category, as almost all funds played duration. It's also lower than its benchmark CRISIL MIP Blended, which is made up of the comprehensive CRISIL Composite Bond index and the Nifty 50.
But its strategy ensures that risk is controlled, which is what conservative investors look for. Besides, given that an accrual play will work well now as the downward rate cycle is at the last stage, the fund can well catch up over the next 3 years. The fund has usually done markedly better than its category during upward rate cycles.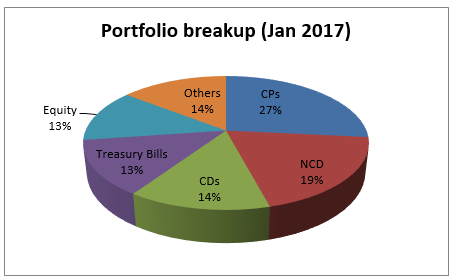 The fund has in the past few months increased its exposure to longer-term corporate debt and extended its average maturity to about 2 years, to improve returns as money market and very short-term rates crashed towards the close of 2016.
It is not aggressive in its equity exposure, limiting its loss-making possibility. The fund, in the past five years has kept equity exposure to 13% or lesser of its portfolio. This is significantly below the 17-20% that most MIPs average, and well below the 25-30% the aggressive ones such as ICICI Pru MIP 25 and Birla Sun Life MIP II Wealth 25 take on. Only Birla Sun Life MIP Savings 5 has lower allocations. Even a small exposure to equity can spell losses if stock markets correct.
For example, rolling the fund's 1-year return over the past 10 years, the SBI Magnum Floater delivered losses only from September 2008 to June 2009 when equities hit the bottom. The loss came in even as the fund held only about 12% in equities in the run up to the crash, though the maximum loss was just 5% while aggressive peers dropped 15-18%. Barring this 2008-09 period, SBI Magnum Floater has not seen any other 1-year losses in the past ten years. In fact, in the past five years, it hasn't seen a 6-month loss when returns are rolled daily. The lower equity holding also aids in keeping volatility under control.
It has delivered category-beating returns despite its low-risk approach. Since 2011 (when the fund managers changed), the fund has beaten the category average and the CRISIL MIP Blended Index 75% of the time when rolling 1-year returns daily. Given its investment strategy, this is a good record. On a risk-adjusted basis as well, measured by Sharpe, the fund scores at the top of its category across the years. In fact, the fund is a good combination of high risk-adjusted returns, low volatility, and control over losses.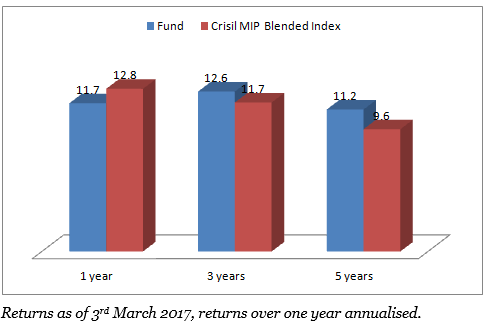 The fund was a tiny one with an AUM of less than Rs 50 crore until mid-2015, which was also why we had not considered it for recommendation. The fund's AUM has now scaled up to Rs 187 crore. The fund is managed by Dinesh Ahuja (debt) and Ruchit Mehta (equity).
FundsIndia's Research team has, to the best of its ability, taken into account various factors – both quantitative measures and qualitative assessments, in an unbiased manner, while choosing the fund(s) mentioned above. However, they carry unknown risks and uncertainties linked to broad markets, as well as analysts' expectations about future events. They should not, therefore, be the sole basis of investment decisions. To know how to read our weekly fund reviews, please click here.
[fbcomments]