This tax-saving season, your options may seem compressed if you look at the returns from your traditional tax-saving products. With EPF, 5-year tax-saving FD, NSC and PPF all seeing a dip in their interest rate  in the past 1 year (which may further go down), market-linked products such as tax-saving funds score over these by a mile now.
Last quarter, we added one more tax-saving fund to our existing list – DSP BR Taxsaver. This fund has been a consistent performer but moved up in our charts in the past few quarters. The fund's return of 13.6% in the past 1 year was conspicuous; as the category managed only about 7% in this period. Contained exposure to midcaps helped the fund manage falls in the early part of 2016 and yet make the best of this segment as midcaps still outperformed after every dip this year thus far.
Investors with a moderate risk appetite can consider investing in this fund for their tax-saving needs. Investments in the fund will provide you will deduction of up to Rs 1.5 lakh from your taxable income under Section 80C of the Income Tax Act. Capital gains from the fund are exempt from tax. The fund has a lock-in of 3 years, given the tax deduction benefit available under Section 80C.
The fund and suitability
DSP BR Taxsaver, like all tax-saving funds, is an equity fund. It predominantly invests in large-cap stocks, with exposure in this market cap ranging between 65% to 70% and rest in mid-cap stocks. To this extent, it carries marginally higher risk than Franklin India Taxshield (which has higher exposure to large-cap stocks), although both these funds are in our moderate risk category. Investors with low tolerance for risk should prefer the Franklin fund especially if they are new to equity funds.
Performance
DSP BR Taxsaver has a highly consistent track record of beating its benchmark Nifty 500, 100% of the times, when its returns are rolled daily over 1 year time frames (for the past 3 years) and 3-year time frames (over the past 5 years).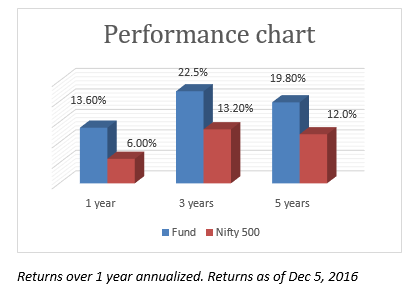 However, this record is not that noteworthy when compared with the category average. That many funds in the category are more aggressive is partly the reason. Still, if the daily rolling returns of the past year is considered, it appears that the fund is shaking off its less brilliant track record against peers and has begun to more consistently outperform. This consistency also partly stems from low volatility. Its standard deviation (daily rolling 1 year returns taken over 3 years) is now lower than other moderate risk funds such as BNP Paribas Long Term Equity.
Portfolio
DSP BR Taxsaver managed this calendar far better than many other funds. Holding the right stocks in the mid-cap space – be it Finolex Cables or IndusInd Bank or large-cap stocks such as HDFC Bank or Maruti Suzuki India – the fund got its stock picks right, in the volatile market of 2016. It also made the right exit decisions:  either by selling when stocks swelled in valuation (Bajaj Finance being an example) or by weeding out select stocks in underperforming sectors such as pharma. This active portfolio management resulted in a high portfolio turnover of 100-130% in the past 9 months ending October; far higher than that of peers. Some portfolio shuffle was visible after the fund saw a change in its fund manager (Rohit Singhania) in July 2015.
FundsIndia's Research team has, to the best of its ability, taken into account various factors – both quantitative measures and qualitative assessments, in an unbiased manner, while choosing the fund(s) mentioned above. However, they carry unknown risks and uncertainties linked to broad markets, as well as analysts' expectations about future events. They should not, therefore, be the sole basis of investment decisions. To know how to read our weekly fund reviews, please click here.
[fbcomments]