A one-year return of 12.6 per cent may pale in comparison to the large-cap chart toppers' 15-17 per cent returns. But BNP Paribas Equity Fund is a steady long term performer, focusing on sector growth prospects, picking leaders, and keeping a lid on volatility. The fund puts 75 to 80 per cent of its portfolio into large-cap stocks, and steps up mid-cap exposure during rallies such as the one in 2012.
Given its large-cap orientation and consistent performance over the long term, the fund is a good fit for moderate risk investors through the systematic investment mode.
Performance
BNP Paribas Equity Fund has moved up the performance ranks since 2010. Against the Nifty, its benchmark, BNP Paribas Equity, has done better by a margin of 7 to 13 percentage points across the one, three, and five-year time-frames. The fund scores even when compared to the broader BSE 100 index. On an annual rolling return basis over the past five years, BNP Paribas Equity Fund has kept ahead of the Nifty for a good 85 per cent of the time.

Compared to its peers too, the fund has remained in the top quartile across time-frames. In the alternating up and down cycles since 2010, BNP Paribas Equity Fund has stayed well ahead of its category average across time-frames, as well as market cycles. For instance, in the sliding 2011 market, the fund's 19 per cent drop is far lower than the 25 per cent of the category. In the aimless market that prevailed for most of 2013 too, the fund's 6 per cent drop was much better than peers.
Measured by standard deviation, the fund is less volatile when compared with large-cap peers such as Birla Sun Life Frontline Equity or L&T Equity. BNP Paribas Equity Fund has delivered well on a risk-adjusted basis too.
Portfolio
BNP Paribas Equity Fund takes heavy sector exposures, with the top three sectors accounting for around 40 per cent of the portfolio, even going close to 50 per cent at times. The top sector is, of course, banking, with only private sector names associated with it. Here, the fund has stepped up exposure to the better performing HDFC Bank, and Kotak Mahindra Bank, while paring holding in ICICI Bank.
The next top sector now is telecom with a 15.4 per cent share in the portfolio. The fund has stepped up holding here gradually over 2014 on prospects firming up; it had pared stake in the sector in 2013. The exposure to telecom appears to be a proxy play to many of the new-age businesses on mobile apps. Established players such as Bharti Airtel for instance can be said to be the foundation for many an e-commerce business. This is just an instance of how this fund wishes to make the best of emerging sectors/businesses albeit without taking the associated risks head on.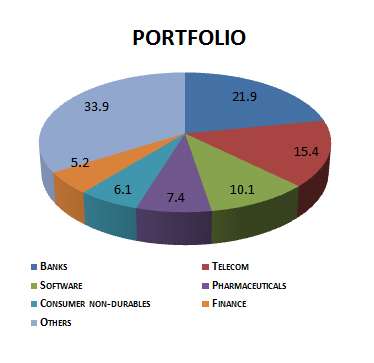 While software forms the third biggest sector, holding here has been cut since March this year, given the slowing growth there. Still,, stock picks here are diverse featuring InfoEdge and Just Dial, along with the more traditional Wipro and HCL Technologies. Defensive pharmaceuticals have been bought into gradually instead.
BNP Paribas Equity Fund has adeptly juggled other sectors and stocks. For instance, it moved out of construction and realty companies such as IRB Infrastructure, Sadbhav Engineering and Puravankara Projects earlier on in the rally. It similarly hiked and pared holding in energy, and cement, and moved away from overheated logistics and industrial stocks. It has begun to add to consumer-oriented themes such as auto and Fast Moving Consumer Goods (FMCG) which can pay off now, what with consumption set to rise.
The fund has Assets Under Management (AUM) worth Rs. 895 crore. It is managed by Shreyash Devalkar.
FundsIndia's Research team has, to the best of its ability, taken into account various factors – both quantitative measures and qualitative assessments, in an unbiased manner, while choosing the fund(s) mentioned above. However, they carry unknown risks and uncertainties linked to broad markets, as well as analysts' expectations about future events. They should not, therefore, be the sole basis of investment decisions. To know how to read our weekly fund reviews, please click here.
[fbcomments]