If you think you are well prepared to retire in style, think again after reading this:
The next generation of retirees believe that their retirement savings are expected to last for an average about 10 years after their retirement, and leave them in shortage for another 5 to 12 years at least.
66% of retirees saw their post-retirement income drop; for 1 in 5 retirees, the drop was almost 50%.
But expenses did not drop. More than half of the retirees had to contend with same amount of expenses or much more (compared with pre-retirement)
50% of the retirees had to cut down on their everyday spending as their savings was lower than expected. A fifth of them were worried their health might suffer as a result.
The expectation that inheritance will fund retirement is most prevalent in India with over fifth of the respondents in India hoping that inheritance will entirely fund their retirement!
Of the non-retirees who did receive an inheritance, only 36% say it made saving for retirement easier.
Those are readings from a Global Survey by HSBC titled 'The future of retirement – Life after work', that included India among 15 countries with a total of 16,000 respondents.
Here's some more India-specific data that does not pose a pretty picture for those looking to retire in future and those who are already retired.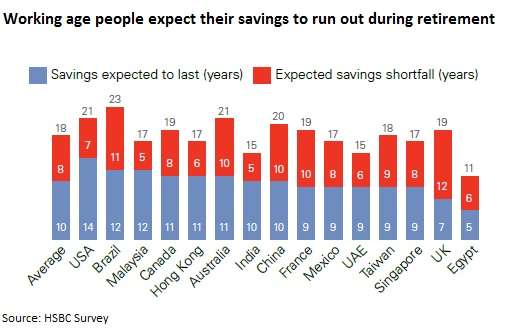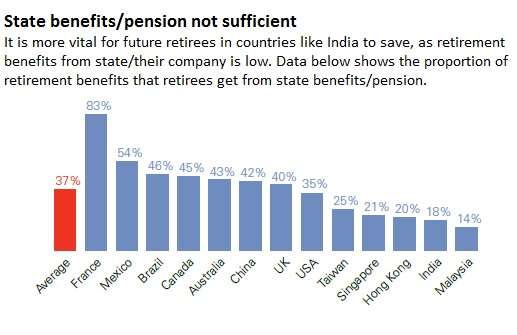 Burst these myths
 'I will not live for more than 15 years after retirement':  In HSBC's survey, most emerging country respondents appear to underestimate their life span. With increasing medical technology and reach, chances are that you will outlive your previous generation. So do not underestimate your life span while planning.
'My expenses will go down after retirement': It clearly doesn't; if anything, it goes up. Chances are that you are forced to cut down on your everyday necessities, therefore reducing your standard of living significantly. Hence, do not underestimate your spending pattern and provide for inflation.
'I will be able to generate the same income after retirement': The survey clearly shows that a majority saw a dip in their income post retirement. The steady fall in fixed-income returns in India will mean that you have to invest a much larger corpus later, to get decent cash flow from 'safe investment avenues'. Iin the Indian context fixed deposit and post office schemes saw a dip from 12-13% in the 1990s to 7-9% now.
'Gifts/loans can help me tide over': Well, the survey points out that it does not. Most people, who receive these in their working life, use them to achieve other goals. According to the survey, 25% used it to get their children married, 24% used it for their children's education and rest used it to purchase major item such as a car or even just to meet their day-to-day expenses.
A habit can change your life
According to the report, more than half of the respondents believed that 'starting to save early' would be the best piece of financial advice they ever received, in hindsight.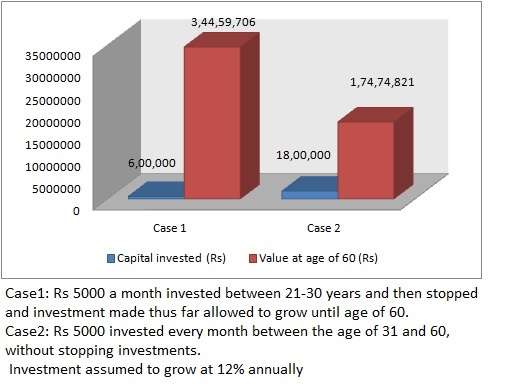 Just see the  graph above to know what difference it would have made had you started investing early.
 You would have managed about close to Rs 2 crore by simply investing early and with lower capital!
That's the power of compounding when you start saving early!
And the simplest way to invest regularly, to beat inflation and save for retirement would be through mutual funds. Take a look at FundsIndia's Smart solutions for retirement; use the calculator to know how much you need to save now.
[fbcomments]