The tax-free bonds issued by both National Housing Bank (NHB) and Jawaharlal Nehru Port Trust (JNPT) offer 7.32 per cent for retail investors (6.82% for others) for a period of 10 years. Interest is paid out annually.
Most of you may find the rates unattractive on the face of it, when compared with a bank fixed deposit. But look at it on a post-tax basis and it may benefit some of you.
See the returns in the table below. Clearly, the bonds offer better post-tax returns compared with FDs if you are in the 30% tax bracket.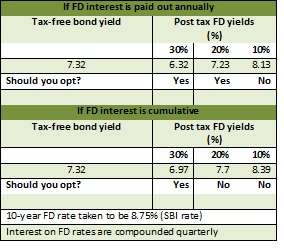 For those in the 20% bracket, the option is attractive if you are looking for an annual income payout. It ceases to be beneficial (against FD) if you are okay with allowing your FD interest to accumulate.
It is noteworthy that both the instruments have received AAA-rating, which is the highest rating given for debt servicing. JNPT is among the largest government-backed port operators in the country, while NHB is a wholly-owned subsidiary of the Reserve Bank of India and lends to housing finance companies.
The offers open on March 11 and closes on March 15.
[fbcomments]